Waipipi Beach Sections
Find your new home at Waipipi Beach Development; discover how special the West Coast landscape is with fine home design to create an incomparable way of life.
Turn your new home vision into a reality with one of the Waipipi freehold sections. Our associations with several leading building companies make it easy for you to design and build a house to suit your lifestyle. With your choice of style and the special ambience of Waipipi Beach it will be somewhere you will never wish to leave.
All sections have power, potable water, security gate entrance and phone. All the roads are sealed and well maintained. The berms are grassed and mowed. There is 600 metre airstrip 2kms from the development. Waverley is 7kms from Waipipi Beach and is a friendly rural town, well serviced with café's, shops and sports clubs.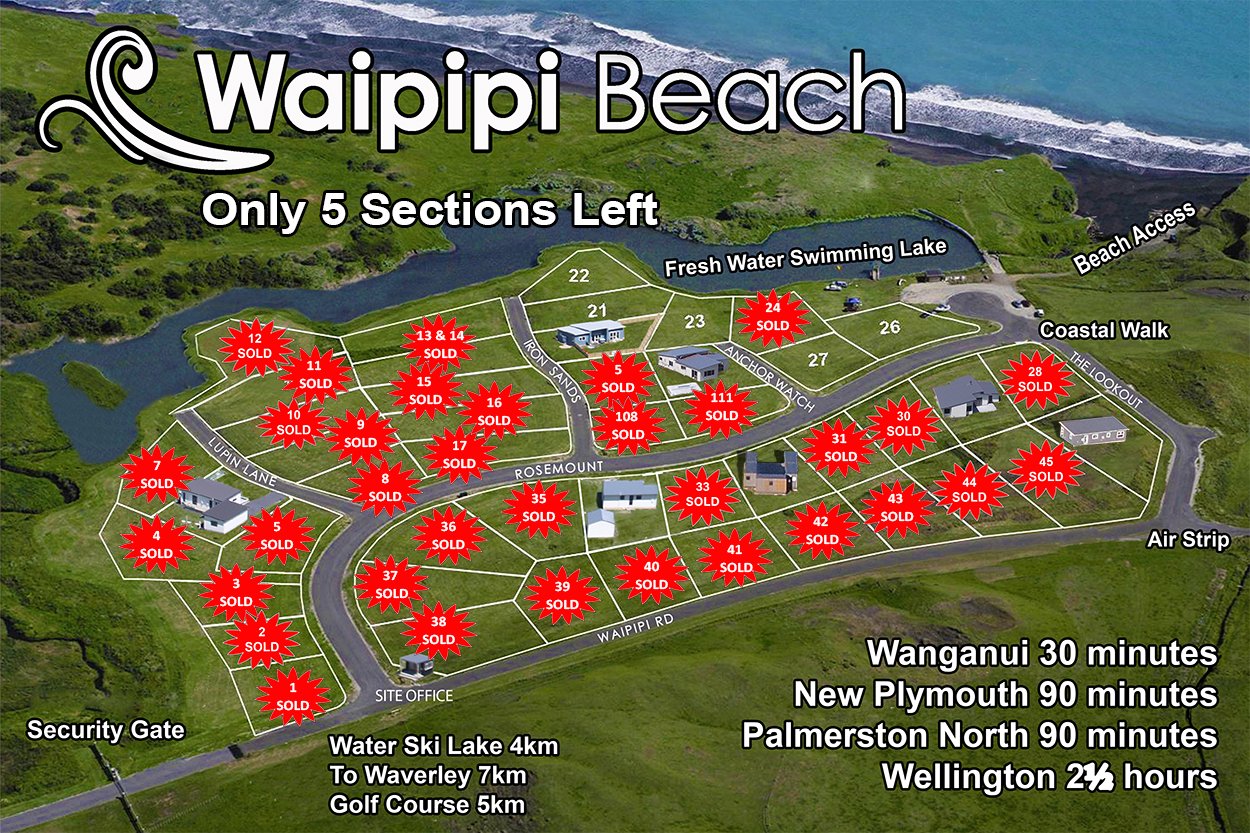 Lot 21 – $246,960 - 773m2
Lot 22 – $327,600 - 838m2
Lot 23 – $272,160 - 821m2
Lot 26 – $317,520 - 1036m2
Lot 27 – $287,280 - 931m2

Waipipi Beach Location
Waipipi is located on the coast just 7 km by sealed road from Waverley, South Taranaki, 35 minutes drive from Wanganui and 90 minutes from Palmerston North on State Highway 3.  Wellington is 3 hours away. Heading towards Taranaki, Hawera is only a 35 minute drive away and New Plymouth is only 90 minutes away.
Waverley is a friendly rural town with a full range of services and facilities including a supermarket, bakery, service station, cafe, restaurant, library, engineers, rural supplies, sawmill, swimming pool and a brand new children's park. A diverse range of sports clubs, cultural and community organisations.
A special feature of Waipipi is that while it is a remote location surrounded by farmland and no houses it is just five minutes drive from a wide range of leisure activities, shops and services.